Bux-Mont Foot & Ankle Care Centers Locations
Warminster Office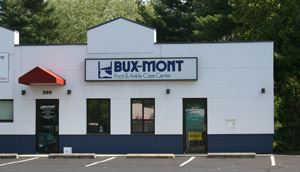 Warminster, PA Podiatrists
Bux-Mont Foot & Ankle Care Centers
399 York Road
Warminster, PA 18974
(215) 672-6634 fax
Office Hours
Monday:
Tuesday:
Wednesday:
Thursday:
Friday:
Saturday:
Sunday:
9 am – 7 pm
8:30am- 12 pm
2 pm- 7 pm
8:30am- 12 pm
11 am- 3 pm
2nd and 4th Saturdays of the month by appointment
Please call with any emergency
Newtown Office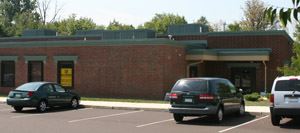 Newtown, PA Podiatrists
Bux-Mont Foot & Ankle Care Centers
11 Friends Lane Suite 102
Newtown, PA 18940
(215) 860-6256 fax
Office Hours
Monday:
Tuesday:
Wednesday:
Thursday:
Friday:
Saturday:
Sunday:
9 am - 12 pm
2 pm - 7 pm
9 am - 12 pm
2 pm - 7 pm
Please call with any emergency
1st Saturday of the month by appointment
Please call with any emergency
Appointments
You have many choices when choosing a podiatrist in Southeastern Pennsylvania, so we have made requesting an appointment a simple process via our website. If for some reason, you cannot keep a scheduled appointment or if you will be delayed, please call (215) 392-4009 as soon as possible.
Insurance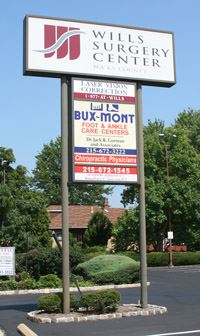 Our office accepts a variety of different HMOs, PPOs, and other health plans. Please call our office to verify acceptance of your insurance carrier.
Facilities & Equipment
X-ray facilities
Physical therapy equipment
Computerized Gait Analysis
Vascular Studies - Doppler
Chiropractic Services
Our Offices
Our qualified staff is friendly and will ensure a pleasant visit. We invite you to e-mail or call our office with any questions via our contact us page.